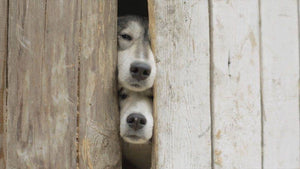 Double Dog Crates & Kennel Furniture
---
Our Custom Double Dog Crate Furniture  are beautiful pieces of furniture designed to accommodate two or more dogs. Available in five standard sizes (small, medium, intermediate, large and XL.
We also offer custom size dog crates. Try our super handy Dog Crate Size Calculator to help you choose the perfect size dog crate or kennel for you dogs. 

To really customize your new dog crate furniture, try our free Custom Dog Crate Design Tool. Design your custom dog crate furniture in 60 Seconds or Less.